Sohoku High School (総北高校) is a public school located in Chiba Prefecture.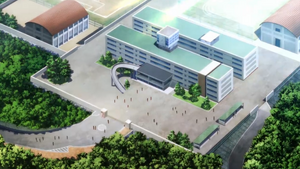 Onoda begins attending Sohoku High at the start of the series. His journey starts as he attempts to recreate the anime club, but instead finds himself drawn into the cycling club. Despite the fact that this turn of events was unplanned, Onoda excels as a cyclist, surprising the other club members as well as himself. The school is about 45 km away from Akihabara (Akiba), which Onoda rides to daily.
The school has two entrances: the main gate that most student use and the back gate, a 2 km slope with a 12% gradient, a Category 3 climb, a great challenge for any cyclist. Onoda often takes the rear entrance going to school, since he can sing out loud because there aren't many people who take that route, and also leaving, which he says is faster. (He states that he needs to go to Akiba quickly when Imaizumi questions his reason for taking the slope.)
For more information about the cycling club, please visit the Sohoku High Bicycle Club page. 
Clubs
Current Clubs
Former Clubs
Sohoku High Anime Club (Closed due to lack of members)
Staff & Students
Students
First-Years

𝟙 - 𝟚

𝟙 - 𝟚

𝟙 - 𝟚

𝟙 - 𝟚

Second-Years

𝟚 - 𝟚

𝟚 - 𝟚

𝟚 - 𝟚

𝟚 - 𝟚

𝟚 - 𝟚

𝟚 - 𝟚

Third-Years
Unknown Grade
Former Students
Teachers

𝔼𝕟𝕘𝕝𝕚𝕤𝕙
Notes
During the storyline first year:
During the storyline second year: