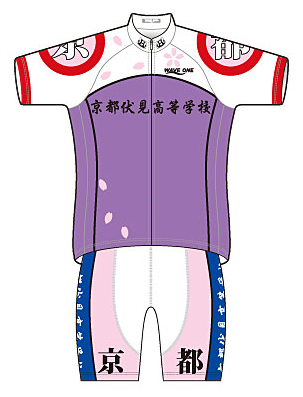 The Kyoto Fushimi Senior High Bicycle Club, also known as "Kyofushi", is situated in Kyoto, Kyoto Prefecture, Japan, and represents Kyoto Fushimi Senior High School. They serve as one of the main rival teams for the Sohoku High Bicycle Club particularly because of their new member, Midousuji Akira.
Kyofushi is not a team that attacks on day 1 of major competitions because they tend to conserve energy that day, however, Midousuji would take over on day 2, often threatening to drop riders before checkpoints from day 2 onwards, and have little regard for teamwork by then.
Midousuji started the trend of shaving his hair to a flat buzzcut, a common hairstyle in men serving in military, in year 1, so he insisted everybody to do so before Day 3 of the 42 Inter High, which was his idea to improve aerodynamics.
Team Members
     Students •      Captain •      Vice Captain •      Manager •      Graduated
Members
Current Inter High Team
Other Members
Former Members
Infrastructure
Historical Footage
Known Representatives
4 Years Pre-Series Generation
3 Years Pre-Series Generation
2 Years Pre-Series Generation
1 Years Pre-Series Generation
Year 1 Generation
Year 2 Generation
Club Known Achievements
Trivia
Due to similar colour scheme to Kumamoto Daiichi, they are able to create confusion on Day 2 of the 42nd Inter High.
Gallery
Community content is available under
CC-BY-SA
unless otherwise noted.